 Capturing the elegance of a bygone era The Arts Ballroom, which captures the elegance of a bygone period, is a lovely location for life's special occasions. Their floor plan includes the following: Grand Ballroom, distinctive granite staircase, mirror-walled Sylvania Room, lounge and mezzanine with views of the whole venue. Couples enjoy a celebration they won't forget thanks to the classic ballroom setting, all-inclusive packages, and attentive personnel.
The event planning team will create a package just for you to best meet your needs and preferences. We'll supply the furniture—chairs, tables, and linens—and set it up any way you choose. From the hors d'oeuvres to the dessert presentation, their in-house catering experts will create a meal, especially for your event. There will be bartenders and servers to ensure that all your guests are taken care of.
The ideal number of people for events in our 10,000-square-foot venue is between 300 and 550. They are located a few blocks from City Hall and the Convention Center in the Avenue of the Arts neighborhood. One of Philadelphia's most prestigious organizations devoted to the arts, culture, education, and entertainment is The Arts Ballroom, a hidden gem.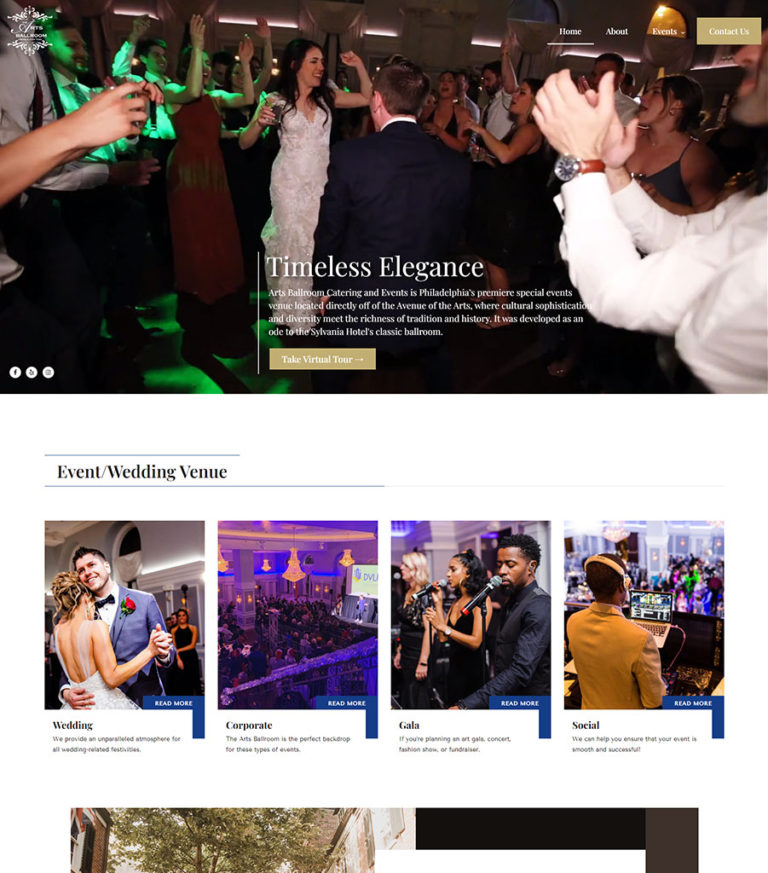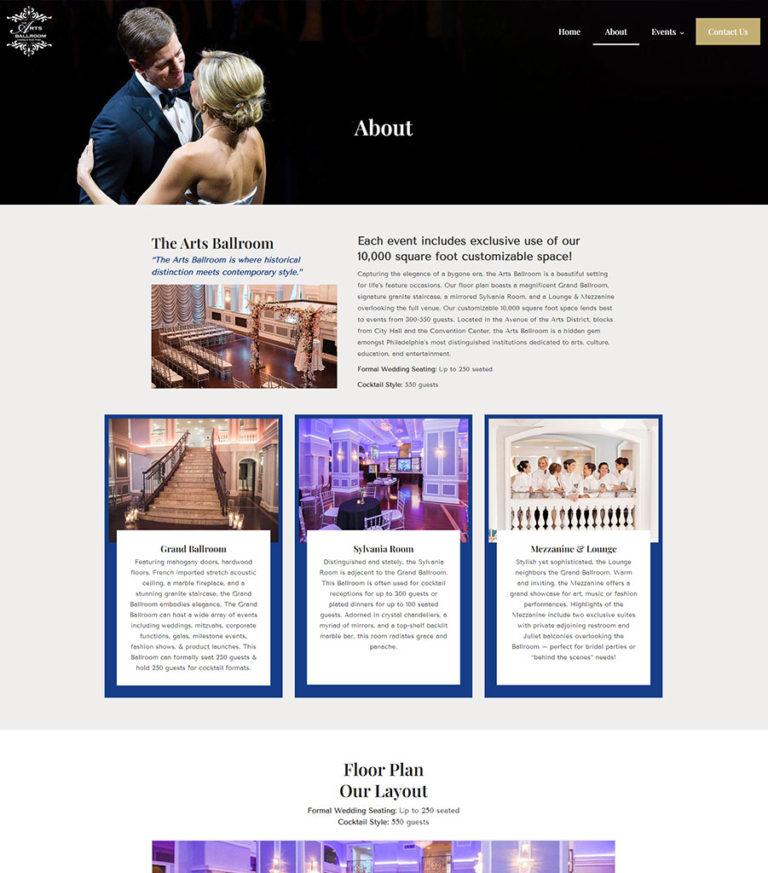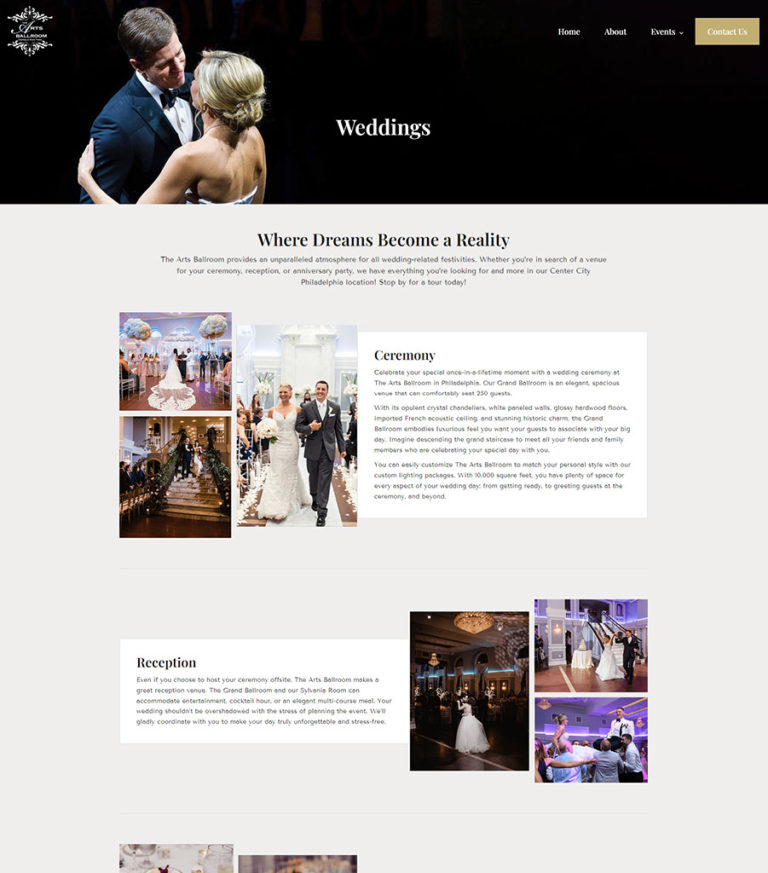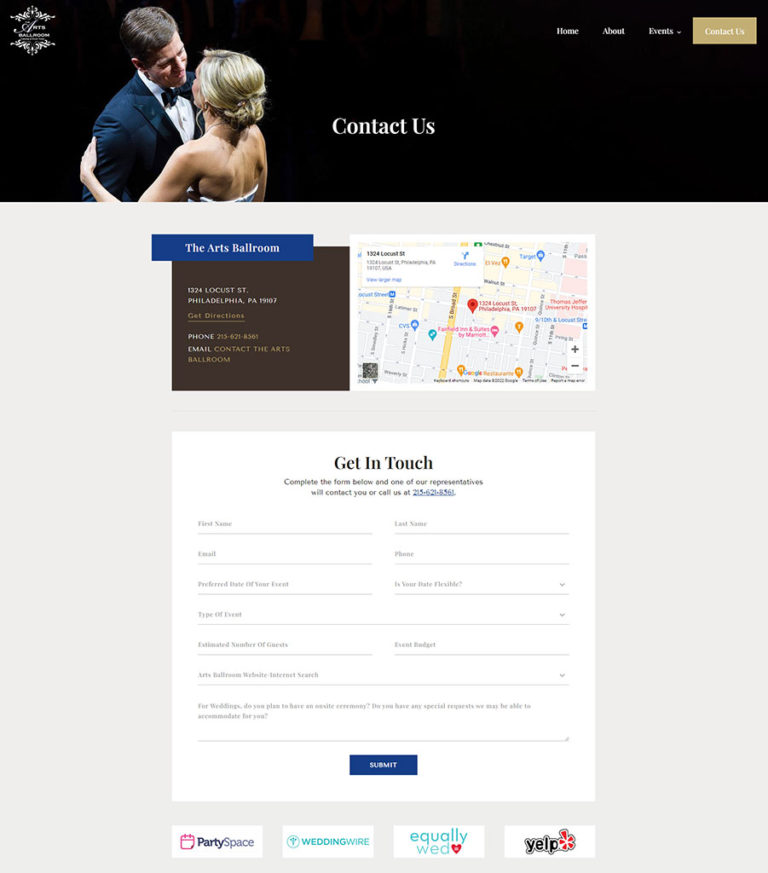 When the New Jersey Multimedia team discussed the goals The Arts Ballroom wanted to achieve for their website, they wanted it to be as sophisticated and diverse as possible. They wanted the design to show the depth of tradition and history. They wish to emphasize to their clients how committed they are to giving all celebrations an unmatched environment that combines historical uniqueness with modern elegance.
In response to the challenge, New Jersey Multimedia developed a website highlighting the richness of tradition and history. All the while keeping it simple to use and easy to explore. Additionally, it showed how committed they were to provide their clients with the event of their dreams.
SOCIAL MEDIA COST PER LEAD
Compete on a Whole New Level Where Your Competition and Your Clients Chase You
Become the Gold Standard in Your Industry and Set an Example Others Can Only Strive to